Coyote is working alongside the current Change4Life campaigns and Get UK Active to help families and children become more active and live a healthier lifestyle. We currently hold classes in Andover, Romsey, Bulford and Stockbridge and are always expanding within the Hampshire and Wiltshire area, and will soon have our children's fitness clubs all across the UK.
The current government guidelines taken from the Health Survey of England 2012 state that the Chief Medical Officers recommendations for physical activity in children and young people should be a minimum of 60 minutes of at least moderate intensity physical activity each day.
Evidence for recommendation of the amount of physical activity for health was reviewed in 2010 for the Chief Medical Officers of the four UK countries. Guidelines were published for under 5s stating that physical activity should be encouraged from birth onwards, as it is critical in reducing adiposity; improves bone and muscle strength, motor development and physiosocial health, as well as being important for cardio-metabolic health (blood pressure, blood lipids (fats) and insulin sensitivity).
Ref: The Health and Social Care Information Centre (www.hscic.gov.uk)
Physical fitness for improved mental stimulation
Enhances children's mental health
Better learning concentration in class, improved listening skills, focus and a deeper understanding of others around them
The recommended daily exercise of one hour per day for children
Children take a large step in being healthily active at a young age thus preventing negativity and health problems in later life
The importance of healthy nutrition and lifestyle
A children's fitness class that boosts confidence and suitable for all children of both genders and physical abilities
Your children will feel part of a happy, healthy and strong community and will make lots of new friends on their active, healthy kids journey
Improves their interpersonal skills
They learn the importance of balancing screen time with daily physical activity
Supports their current after school clubs such as team sports, dance, martial arts, gymnastics, swimming lessons and other physical activities they may attend.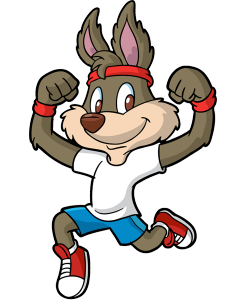 Our signature Kids Fit Club session aimed at the 4-7 yr olds, where we work on different fitness disciplines each week with the help of our Coyote Characters. These disciplines help us with everyday activities and begin to form the fitness foundations of healthy habits that will last a lifetime, they include power, stamina, speed, agility, strength, mindfulness, balance and stability.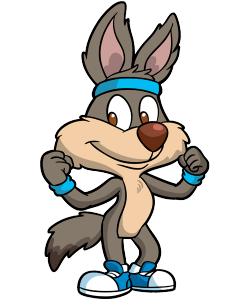 Our Kids Yoga class for the 4-7 yr old's where we will take them through various Yoga poses and moves via story telling, followed by relaxation at the end. We are aware that some children prefer the quieter and calmer side of a fitness activity. We still have our fun, silly moments with the kids and each themed story will have an activity they can take home and complete with a parent or by themselves at the end.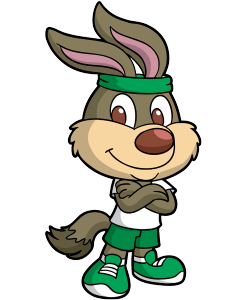 This is our faster-paced class for the 7-10 yrs olds. It is ideal for children who would like to improve their sports performance or for those who are ready to move up from our regular kid's fit club class or for those who would like to start their positive fitness journey. It's still lots of fun and here the kids will begin to gain their fitness badges through our fitness tests system.  We're excited to bring this new platform to Coyote and continue our 'active, healthy kid' mission. 
Healthy Weight Healthy Mind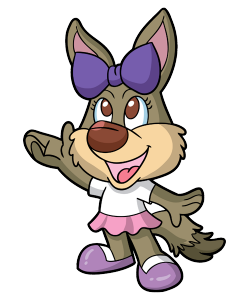 This program is specially designed for children between the ages of 8-11 yrs old who are above a healthy weight. We will help the children gain confidence in themselves and teach them how to make changes to their nutritional choices and physical activities. This is a subsidised program, and you and your child will have to commit to the 12 weeks from start to finish, as well as do your part at home to help your children practice and create these new healthy habits.
Bulford Parish Hall 
Watergate Lane
Bulford
SP4 9DY
Coyote Kids Fit Club
5.25pm-6.05pm
Age: 4-7 yrs
*Launches 28th Feb 2022
Coyote Crew Champions
6.10pm-6.50pm 
Age:7-10 yrs
*Launches 28th Feb 2022
Abbotswood Community Centre
14 Abbotswood Common Road
Romsey
SO51 0BX
Coyote Kids Fit Club
4.30pm-5.10pm 
Age:4-8 yrs
*Weekly
Coyote Crew Champions
5.20pm-6pm 
Age:7-10 yrs
*TBC
Turner & Thom
The Old Stables
Sandydown
Stockbridge SO20 6BY
Coyote Pups Fit Club
10.00am-10.40am
Age: 3-5 yrs
*Launches 9th March 2022
Coyote Pups Fit Club
11.00am-11.40am
Age: 3-5 yrs
*Launches 9th March 2022
The Bowman Centre
Shears Drive
Amesbury
SP4 7XT
Coyote Kids Fit Club
4.15pm-4.55pm
Age: 4-7 yrs
*TBC
Coyote Crew Champions
5.05pm-5.45pm
Age: 7-10 yrs
*TBC
Augusta Park Community Centre
East Anton Farm Road
Andover
SP11 6RD
Coyote Kids Fit Club
4.00pm-4.40pm
Age: 4-7 yrs
*Weekly
Coyote Crew Champions
4.50pm-5.30pm
Age: 7-10 yrs
*Weekly
Our Pop up themed Fit Clubs for the pre-schoolers and various venues each month.
Coyote Pups Fit Club
10.00am-10.30am 
Age:3-5 yrs
*TBC
Coyote Calm with Mum
10.40am-11.10am 
Age:3-5 yrs
*TBC
We will come to your nursery or preschool and deliver our popular Coyote Kids Fit Club classes to you as often as you like.
All sessions can be tailored to a particular theme your working on, as a fitness party, or as an extra curricular activity!
Community Projects in your area
We offer our fit club services  to various community centre's and projects in the area, we'd love to get involved locally.
If you would like to set up a community project to get children into leading an active, healthy lifestyle then we can help.
Events, Parties & Entertainment
We are available for various events from weddings, corporate family events to charity balls.Why not add a children's fitness class to your day?
We can guarantee to keep the little one's entertained.
We stock a range of branded merchandise, like T-shirts, keyrings, badges and hoodies. Come and have a chat at your next Coyote session to place your order.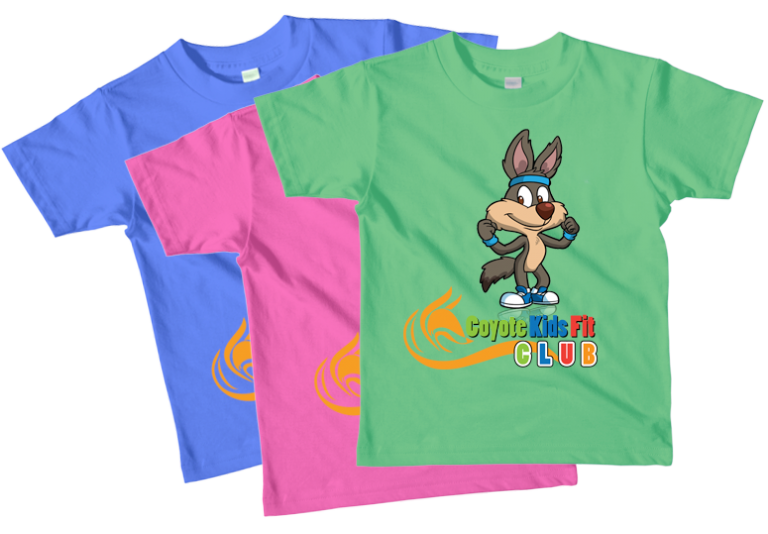 Kai loves to jump over everything and anything. Kai's favourite superfoods are broccoli and tomatoes, and favourite fruit is a banana.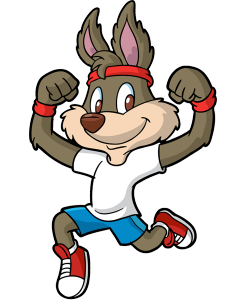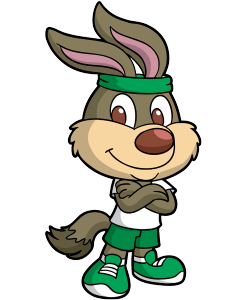 Kip loves to run fast. Kips favourite superfoods are peas and spinach, and favourite fruit is an orange.
FLEXIBILITY AND STABILITY
Kelsey loves to balance and stretch. Favourite superfoods are carrots and sweet potato, and favourite fruits are all types of berries.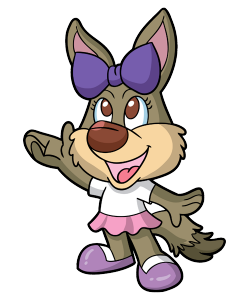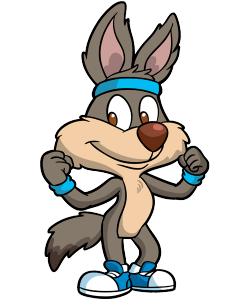 Kody loves strength and mindfulness. Kody's favourite superfoods are peppers and brussel sprouts and favourite fruit is an apple.
We have you covered, simply check out our FAQ page or get in touch.